IPC4761-Type VII Via-in-paid&resin fill and copper cap
Views:24 Author:Site Editor Publish Time: 2019-09-17 Origin:Site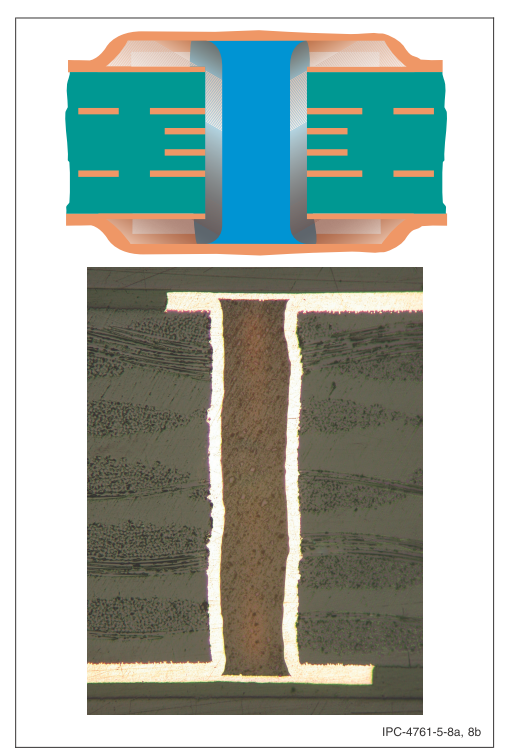 IPC4761-Type VII mean that the via need resin filled and copper cap, as the picture shown.
A lower cost alternative to the blind via is a process that fills the thru-hole via sand via in the BGA pads with a resin that replicates the coefficient of thermal expansion of the epoxy used in the prep reg. This process is especially viable when the trace n' space density does not require blind via, but high density BGAs are being employed.
In this process, the thru-hole via sand via in the BGA pads are drilled and then thru-hole plated. This is followed by a panel electroplate to increase the copper thickness in the via holes and via in the BGA pads. The thru-holes for components must be done in a second drilling and plating step. The plated via and BGA holes (no pattern has been applied) are then pressure-plugged with an epoxy resin that is TG matched to the prep reg.
The resin is cured and then mechanically plagiarized to match the surface of the outer layer copper foil.
The panel with resin-filled via holes is processed through the complete DSB process (drilling, plating, etching, etc.) for the component holes that must be left open for thru-hole pins. This process puts a copper cap over the resin dots in the via holes and the BGA pads. The end result is a BGA-pads-only outer layer that is easily stencil printed with solder paste.